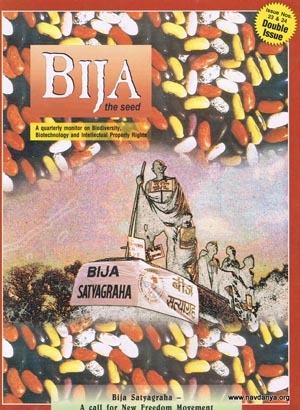 Since 1991, Navdanya has organized farmers through the Bija Satyagraha Movement to keep seed in farmer's handand to not cooperate with IPR Laws that make seed a corporate monopoly and make seed saving and  seed sharing a crime.  In 1993, half a million  farmers participated  in a historic Bija Satyagraha rally at Bangalore's Cuban's Park. This was the first international protest against WTO.
Read more...
Jaiv Panchayat - Living Democracy
Ecological agriculture is not possible unless biodiversity is in the commons, and is free from the threat of extinction posed by technologies like genetic engineering. Hence, on 5th June 1999, on the World Environment Day, Navdanya launched Jaiv Panchayat - the Living Democracy Movement to fight against the biopiracy and IPR monopolies on life forms.
Read more...
PEOPLE'S CHARTER FOR FOOD AND NUTRITION SECURITY



The Global Conference on Meeting Nutritional Challenges with Sustainability and Equity was held on 2-3 August 2009 brought together 151 participants and experts representing India and other countries.


We, the participants included representatives from farmers groups, Rights based organizations, women's groups and groups working on rights of children, public health, public interest groups, international groups and individuals.  The...


Read more...
<< Start < Prev 1 2

3

Next

>

End

>>


Page 3 of 3