Organic Mango Festival held at Navdanya Farm, Dehradun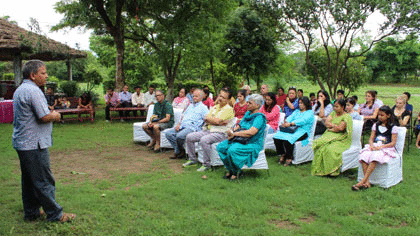 Navdanya welcomes this year's monsoon in Doon valley by organising an organic Mango festival. Over 30 patrons from Dehradun along with 50 other international participants from Japan to USA came together at Navdanya's biodiversity conservatory farm to relish the native varieties of Mangoes.
Navdanya farm currently has nine indigenous varieties of mangoes growing at the farm. These include the rare Amrapali, Dussheris, langra, Tota Pari, Desi, Chausa, Kamli, Safeda and Malda varieties. The two-day event started on July 2nd and was concluded on July 3rd.
The first day saw the local interns and volunteers pluck mangoes and prepare them for the Mango feast. During this time, the Bijaks were also given a lecture on the rich mango biodiversity of India, and were given a demonstration on how to run an organic mango orchard. Emma Ratcliffe, 20 from USA said, "Mango is my favourite fruit and this is first time, I have got to learn so much about this fruit while at the same time taste so many varieties of yummy mangoes. This has been my best time in India so far."
The first day ended with shramdhan (gift of labour) from the interns and bijaks who worked to prepare for the festival. At the end, there was organised a cultural evening, where participants shared their stories and exchanged ideas with each other.
Day two was the beginning of the main event and the mood at the farm was jovial. People started to come to the farm at about  9 am, to make sure they have enough time to pick and eat all their favourite varieties. The opening session began by 10 am, with Dr Vinod Bhatt's opening address on organic farming.  The next two hours, were pure gourmet delight as the participants indulged in mango eating. Some of the foreign participants were eating these many varieties for the first time.
In particular, a group of 18 students for New Orleans University, were thrilled to discover the rich diversity of tastes and flavours.  But that was not all, after the mango tasting was the Mango feast. One of the students remarked, "Before today, I only knew that mango was only of one type, but coming to Navdanya has changed that."
The feast was created especially by Navdanya's chefs to theme of the festival. They featured over 10 dishes ranging from Aam pulao to Mango Srikhand all crafted only for our patrons. There were different types of vegetarian preparations with mangoes blended into them.
Navdanya Chef Kamal Chettri said, " I have worked tirelessly for over one month to prepare this menu. It was very challenging as I had to experiment with the ingredients to get the perfect taste ready for our patrons. I only hope that all the people who came here today, took back some of those flavours home and fond memories of the mango festival here."
The group after a hearty lunch, left for the city, while the foreign participants stayed another day to explore the biodiversity at Navdanya before they continued on their journey.
Kuldip Shiva, director at Navdanya said, " Mango is revered as the king of all fruits in India. It is also termed as the fruit of immortality by some. We herer at Navdanya, want our patrons to cherish the natural flavours of these gifts of nature. Our efforts are to keep working with nature to maintain sustainability, health and taste on the farms and on our plates."