News
Seed firms begin field trials of GM crops in Maharashtra
At least five large seed companies, including Monsanto, Mahyco and BASF, have started field trials of genetically-modified (GM) crops in Maharashtra, which granted permission earlier this year. The companies are focussing on crops such as rice, corn, chickpea and cotton.

Mahyco, for instance, has started carrying out trials for GM rice in the Konkan region of coastal Maharashtra. The company eventually wants to develop a rice variety which will be tolerant to salinity in the environment...


Read more...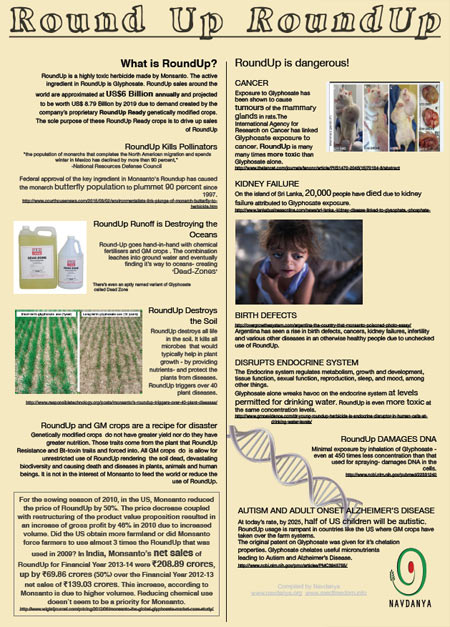 RoundUp is a highly toxic herbicide made by Monsanto, RoundUp Kills Pollinators, RoundUp Runoff is Destroying the
Oceans, RoundUp Destroys
the Soil, RoundUp and GM crops are a recipe for disaster, Research on Cancer has linked
Glyphosate exposure to cancer
Women of India pledge to defend seed freedom and fight GMO's and bio piracy.
We are the seed keepers, seed breeders and food producers, using our own traditional and indigenous seeds to produce nourishing, nutritious, tasty food, and resilient crops and communities.

Since the last two decades GATT, WTO, World Bank, and corporations have started to highjack our seeds and seed sovereignty.  More than 95% of the cotton seed is now Bt cotton, owned and controlled by Monsanto; this is pushing our families into debt and contributing to an epidemic of farmer suicides.  We...


Read more...
Mahila Anna Swaraj - Day 1
Mahila Anna Swaraj is Navdanya's programme for women's food sovereignty. It is based on celebrating and rejuvenating women's knowledge and skills in biodiversity conservation, sustainable agriculture and food production and in artisanal organic food processing.

 

Women have been the keepers and breeders of seed, with seed being genetically modified and patented, seed has moved from women's hands to the hands of giant corporations.

 

Mahila Anna Swaraj reclaims women's seed...


Read more...
Press Release International Women's Day, 8th March 2015
Diverse Women for Diversity

Mahila Anna Swaraj

Initiative for Health , Equity and Society

Navdanya

Moms Across the WorldBIODIVERSITY OR GMOS: WILL THE FUTURE OF NUTRITION BE IN WOMEN'S HANDS OR UNDER CORPORATE CONTROL?Women have been the primary growers of food and nutrition throughout history, but today, food is being taken out of our hands and substituted for toxic commodities controlled by global corporations. Monoculture industrial farming has taken the quality, taste and nutrition...


Read more...
<<

Start

<

Prev

1

2 3 4 5 6 7 8 9 10 Next > End >>


Page 1 of 65