News
Press release - World Biodiversity Day 22nd May - Dr Vandana Shiva
On World Biodiversity Day Book on "Annam, Food as Health" was released which shows the connection between biodiversity, organic food and health

 

New Delhi, 22 May 17: On the occasion of World Biodiversity Day, Navdanya will pay tribute to late Minister for Environment and Forests Shri Anil Madhav Dave and we will also release a new book, "Annam, Food as Health" which shows the connection between biodiversity, organic food and health.

 

Speaking on the occasion, Dr Vandana...


Read more...
The book creates awareness on healthy eating so that disease & hunger burdened in the Indian people is removed an India emerges as a strong nation based on Biodiversity organic farming a healthy people.
The contributors of the book, all eminent expert from their field will be creating a think tank on the linkages between food agriculture and health and task force to inform would the general public and the policy makers.
To order  This e-mail address is being protected from spambots. You need JavaScript enabled to view it
The book creates awareness on healthy eating so that disease & hunger burdened in the Indian people is removed an India emerges as a strong nation based on Biodiversity organic farming a healthy people.

The contributors of the book, all eminent expert from their field will be creating a think tank on the linkages between food agriculture and health and task force to inform would the general public and the policy makers.
To order This e-mail address is being protected from spambots. You need JavaScript enabled to view it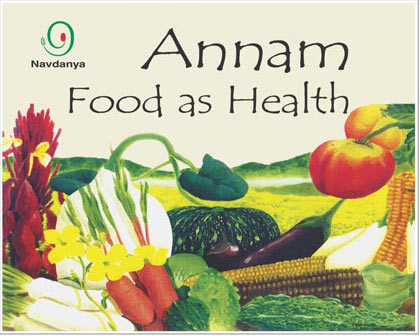 GM mustard gets go-ahead: Scientist Vandana Shiva calls move 'fraud perpetrated on nation'
Condemning the Genetic Engineering Approval Committee's (GEAC) decision to allow herbicide tolerant Bayer's GM mustard, scientist and environmentalist Dr Vandana Shiva sent out the call across India to intensify resistance to genetically modified (GM) mustard and "the hijack of our food by the Monsanto and Bayer."

File image of Vandana Shiva. Getty

The GEAC gave a nod to Bayer's Herbicide Tolerant(HT) GM mustard on Thursday, despite a case still being heard in the Supreme Court and a...


Read more...
Cancellation of Dow/DuPont Merger
Director,

Competition Commission of India,

HT House,

New Delhi

Date :9/04/17

 

Dear Sir,

SUB: Information for cancelling of Dow/DuPont merger in India

 

After reviewing the CCI document on  Dow/Dupont merger we Navdanya, a network of organic farmers and seeds savers, write you seeking the rejection of the application for the merger between the Dow and Dupont based on the objective of the Competition Act which is

which is to protect the interests of consumers and to ensure freedom...


Read more...
<<

Start

<

Prev

1

2 3 4 5 6 7 8 9 10 Next > End >>


Page 1 of 86