Vitex plantation in Navdanya and Doon valley public school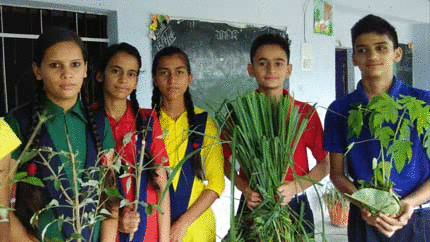 Harela celebrated in the Doon valley Public School.
5 member action team selected in the school.
Overviewed the school's kitchen garden.
16th of July, 2016. Navdanya celebrates 'Harela' in the Doon valley Public School, Dehradun.
Principal Mrs. Bharti Upadhyai was present at the same time.
it was 16 of July. I was with Mr. Girish ji in Doon valley Public School.
it was my first day in this school. About 25 students of class 7th, 8th, 9th and 10th standard were present there.
Girish ji introduce about Navdanya and its work through our leader Dr.Vandana Shiva.
I (Dinesh Chandra Semwal) explained about importance of organic farming and how students can play an important role in this field through kitchen garden of the school and at their home as well.
5 student selected for an action team. Th 5ive members are: Rashmi(8th), Vaishali Yukti, Naman, and Uday (9th).
we transplant the lemon grass and vitex in the campus. , we also observed the kitchen garden with students. kitchen garden is fruiting with chilli and brinjal.
On 14 of July, 2016 we transplant around 1500 vitex branches in Navdanya's boundary with help of all farm members.
We also planting 2500 plants till end of this month.