News
Making Peace with the Earth
नवधान्य ने बाल दिवस पर प्रारम्भ किया 'युवा अन्न स्वराज' (युवा भोजन सम्प्रभुता) अभियान
युवा अन्न स्वराज अभियान से होगा भारत का भविष्य सुरक्षित।बताया गया अधिक वजनी होने का राज।आठ में से एक व्यक्ति है मोटापे का शिकार। जंक फूड से मुक्ति और जैविक भोजन अपनाने की ली सपथ।

 

नई...


Read more...
नवधान्य ने आयोजित की महिला एवं बाल विकास मंत्रालय के साथ ''वुमन आॅफ इण्डिया आॅर्गेनिक एक्जिबिशन'-2015
नई दिल्ली, 13 नवम्बर, 2015। नवधान्य संस्था द्वारा महिला एवं बाल विकास मंत्रालय के सहयोग से 'दिल्ली हाट', आई.एन.ए. में भारतीय महिलाओं द्वारा उत्पादित एवं निर्मित विभिन्न जैविक उत्पादों तथा...


Read more...
Press Release: Women of India Exhibition 13 November 2015
New Delhi, 13 Nov 15:  Navdanya is collaborating with the ministry of Women and Child Development to bring to Dilli Haat, INA the first ever  organic Women of India Exhibition. Through the Mahila Anna Swaraj (MAS) (Diverse Women for Diversity ) initiative Navdanya has connected over 5 million women from 22 states of India as one force for sustainability and women's empowerment. Members of MAS are women seed savers, women organic growers, artisanal processors. They include Navdanya's own...


Read more...
Women of India Exhibition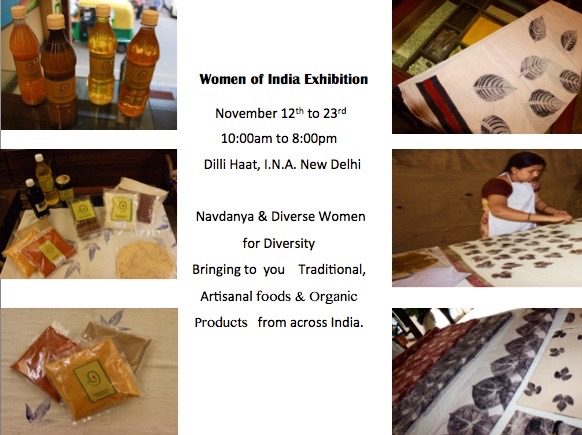 November 12th to 23rd
10:00am to 8:00pm
Dilli Haat, INA, New Delhi
Navdanya & Diverse Women for Diversity
Bringing to you Traditional
Artisanal Food & Organic
Products from accross India
<< Start < Prev 11 12 13 14

15

16 17 18 19 20 Next > End >>


Page 15 of 86